Press Release
Interesting news from our world
DIGITAL AND EMOTIONAL: LUFTHANSA AVIATION TRAINING DEVELOPS NEW BASIC TRAINING FOR FLIGHT ATTENDANTS
02. Jul 2018
DIGITAL AND EMOTIONAL: LUFTHANSA AVIATION TRAINING DEVELOPS NEW BASIC TRAINING FOR FLIGHT ATTENDANTS
Most comprehensive revision of Lufthansa Flight Attendant basic training since its introduction
Practical safety & service training for future flight attendants
In the area of Safety & Service Training, Lufthansa Aviation Training has revised the content and technology of the basic training for flight attendants for Lufthansa Airline more comprehensively than ever before. The first participants successfully completed their training in the new format in Munich at the beginning of June.
Nearly 35,000 flight attendants from various airlines attend their annual license maintenance training courses at Lufthansa Aviation Training (LAT) training centres. In addition, over 2,500 new flight attendants will be trained at the six Safety & Service Training locations this year. Among them are the "future" cabin crews of Lufthansa Airline. Their basic training for flight attendants has now been completely redesigned by LAT in terms of content and technology. The result is a training that takes into account megatrends such as digitization, connectivity and individualization. Together with the airlines of the Lufthansa Group, LAT continuously monitors and evaluates these trends and continues to develop training and education on the pulse of the times. Among other, this means that tablets are used as a central working and learning tool. Trainees are also given a great deal of personal responsibility in terms of location, space and time for their individual learning. Since the participants are trained directly at the LAT locations in Frankfurt and Munich, it is also possible to introduce them intensively to their future employer from day one, e.g. by being welcomed directly at Lufthansa itself rather than at the training centre. Another new feature is that it is now possible to practice independently by using tutorials that are retrieved via QR codes in the training centres – in specially designed training rooms. For the first time a separation of training and evaluation rooms was realized. This has a simple but meaningful background: learning works best when mistakes can be made. In a sheltered room, unattended by trainers, the trainees now have the opportunity to try themselves out without having to feel that possible mistakes in training have an impact on the basic success of their training. They therefore learn more liberated and efficient. They are then evaluated in rooms explicitly designated for this purpose. To ensure that future flight attendants are not left alone when learning online, an e-tutor system allows them personal support in case of questions and/or ambiguities. Since March 2018, several courses have been running in the new format – the first graduates started working for Lufthansa at the beginning of June.
In July, a series on the be-lufthansa.com blog will start on the new basic flight attendant training. Several contributions are planned at different times of the training – from the start ("Welcome to LH") to the festive take-off day at the end of the course.
Customer satisfaction and safety in the airplane with Lufthansa Aviation Training
The very first interaction between a passenger and a flight attendant decides whether or not a customer feels comfortable during a flight. The behaviour of the cabin crew has a decisive influence on the level of customer satisfaction and customer loyalty. The service in the cabin therefore has a direct influence on the economic success of an airline. At LAT, the Safety & Service Training division offers the design and implementation of EASA-compliant safety training courses as well as service and product training courses tailored to the customer and his branding. The focus is on training and further education of cabin crews of Lufthansa Group Airlines and external airline customers. Training courses from Safety, Emergency, Human Factors/CRM and Service & Culture segments are also offered to companies from non-airline-specific areas and, depending on the training, on site at the customer's premises. Special realistic training equipment is available for Safety & Service Training at our own training centres in Berlin, Cologne, Essen, Frankfurt/Main, Munich and Zurich. It can simulate actual working conditions during a flight. Spatial conditions, lighting conditions and sound effects are deceptively realistic and enable cabin crews to learn and train under very realistic conditions.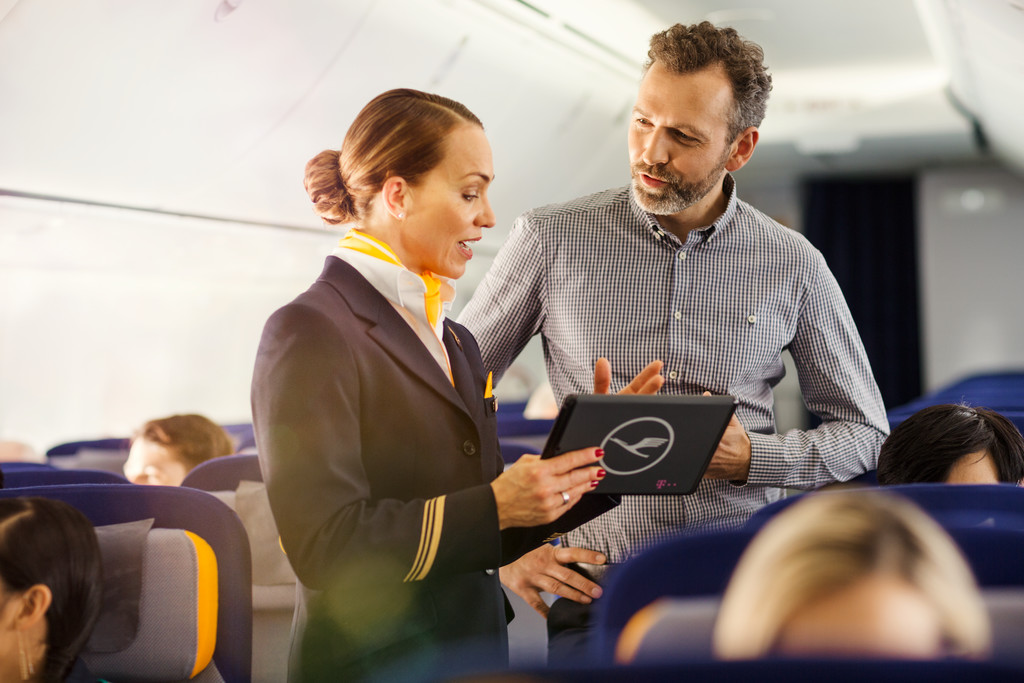 DIGITAL AND EMOTIONAL
New basic training for flight attendants
Contact
WE'RE HERE FOR YOU