Press Release
Interesting news from our world
null
RECORD YEAR FOR EUROPEAN FLIGHT ACADEMY
13. Dec 2018
RECORD YEAR FOR EUROPEAN FLIGHT ACADEMY
In 2018, more flight students start their training than ever before
Highest training standards through large-scale fleet modernization
Efficient and customer-oriented training through digital training concepts
European Flight Academy looks back on a record year. With over 450 flight students in 2018, more young pilots than ever before begin their ab-initio training as commercial pilots at Lufthansa Group.
The demand for pilots is growing rapidly worldwide. In Europe, Lufthansa Group airlines are therefore increasingly looking for new staff for their cockpits. In order to meet this demand also in the coming years, more than 450 young men and women began their training as commercial pilots at the European Flight Academy (EFA) in 2018. Under this brand Lufthansa Aviation Training (LAT) bundles all flight schools of the Lufthansa Group at locations in Germany, Switzerland and the USA.
"LAT's clear focus in 2018 was on recruiting and training new pilots for the Lufthansa Group. Offering the highest quality to almost 500 flight students was and still is a challenge for us. Thanks to our state-of-the-art fleets and training concepts as well as efficient structures, we can look back on a very successful year and are well prepared for the tasks of the future," says Ola Hansson, Managing Director of Lufthansa Aviation Training.
Investing in the future
In order to train the large number of flight students according to the highest Lufthansa Group standards and prepare them for their future work in the cockpits of a commer-cial aircraft, LAT invested in particular in the renewal of its training fleet. In 2018, LAT replaced its Beechcraft F33 Bonanza and Piper PA44 Seminole at Goodyear (USA) and Rostock-Laage (Germany) with a total of 30 ultra-modern single- and twin-engined Cirrus SR20 and Diamond DA-42 aircraft. The record number of flight students resulted in a similarly record number of flight hours. The EFA fleet was in the air for a total of six years and 11 days in 2018. The aircraft and their crews covered a distance of more than 10 million kilometres, corresponding to 268 orbits around the world.
Thanks to state-of-the-art engines and avionics the new aircraft are equipped with, it has not only been possible to save around one third of fuel compared to previous aircraft types – thanks to digital support, flight planning and briefing material can now be transferred to the aircraft via iPad. Since all theoretical training documents have also been optimized for tablet use, around 700,000 pages of paper were saved in 2018. Stacked on top of each other, this results in a mountain 167 meters high – or 550 feet.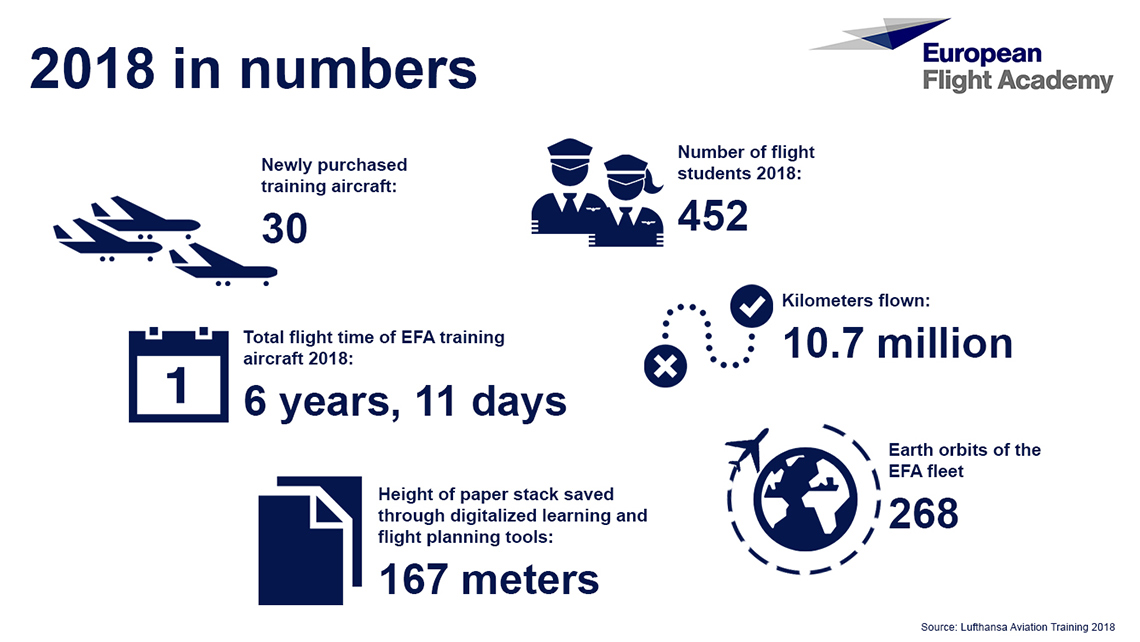 EFA record year 2018 in numbers
Contact
WE'RE HERE FOR YOU